Water Damage Restoration
Struck by a Flood? Here's What You Should Do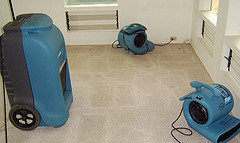 Water damage in your home can be very stressful and even dangerous. If your home, or a part of it, floods, don't panic. Take these steps immediately:
Call a professional: Trying to deal with water damage by yourself can be hazardous. If you spot water damage at home, call us. Chicagoland Carpet Cleaners is ready to help you 24/7.
Do not vacuum wet floors or carpets: Vacuum cleaners are not suitable for water extraction, and you also run the risk of giving yourself an electric shock.
Do not enter a room with standing water without completely shutting off your home's electricity.
Turn on all the fans in the house to assist in the drying process. Turn the air conditioning / heat on. Make sure not to use electricity outlets in flooded rooms.
Restoring Your Room – The Safe Way:
The technicians dispatched to your home are highly-trained and experienced water-damage specialists. Rest assured, they will extract all the water in your house and restore the damaged areas to their previous condition.

Our cleanup methods eliminate any moisture coming from the walls or floors, at the same time treating all surfaces to prevent mold and mildew from growing – or to keep them from returning.

After the extraction and clean-up processes have been completed, we will sanitize and disinfect your home, using non-toxic, biodegradable agents to protect the health of you and your family.

Finally, we will deodorize your carpet and upholstery, leaving your home dry, safe, and fresh.
Cutting Your Costs
Chicagoland Carpet Cleaners understands that these are tough economic times and that price is an important factor in your choice of a cleaning service.

That's why we're offering you a 15% discount for mold and mildew treatment.

Don't delay! Call us now at 888-783-7164.
Carpet
Cleaning
Get 2nd Room Clean

$20 OFF
Combo
Cleaning
Clean Carpet & Rugs or Upholstery and get

$25 OFF
Green
Cleaning
Get Non-Toxic , Eco-friendly

FREE
Pet Odor & Stains
Save on Powerfull Pet Odor & Stain cleaning

$20 OFF
Rug
Cleaning
Save on detail Rug Cleaning in our facility
FREE PICK UP
Upholstery
Cleaning
Clean 1 Upholstery, Get 2nd
%50 OFF