Carpet Cleaning
Professional Carpet Cleaning
Gives Your Room a Whole New Look!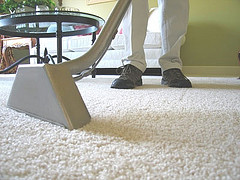 By taking advantage of the latest carpet cleaning technology, Chicagoland Carpet Cleaners will clean your carpets more thoroughly than anyone else.

Our methods are powerful enough to remove nearly any kind of stain and eliminate nearly any kind of odor.

Our cleaning method also uses a fabric protector that maintains and preserves the life of the color and fiber of the carpet.

Top of the line Chicago Carpet Cleaning systems use extra strong suction to provide unrivaled cleaning power and remove ground-in soil, reviving your carpet's appearance.

We follow all major carpet manufacturers' care and cleaning specifications, including those for the new generation of stain-resistant carpeting.

Choosing the proper cleaning system is extremely important. Our professional technicians carefully inspect the fabric and condition of the carpet before selecting the best methods. By using exclusive cleaning products, procedures, and equipment we can assure you that you'll receive the highest level of cleaning performance.

We typically recommend hot water extraction cleaning as the most effective way to clean your carpets. However, for older and more delicate fibers, we may recommend a dry cleaning process.

Our technicians know that proper cleaning demands both experienced professional judgment and knowledge of different cleaning techniques.

We strive to offer you the best solutions, for the best results.

Many people spend as much as 90% of each day indoors, where the level of many pollutants can be as much as five times higher than outdoor levels. Indoor air pollution has been identified by the Environmental Protection Agency as one of the top five urgent environmental risks to the public.

The cleaning systems used by Chicagoland Carpet Cleaners will eliminate mildew and other organisms that thrive in your carpet and pose a threat to your health.

Chicagoland Carpet Cleaners' professional carpet cleaning services ensure not only that your home and office are clean, but that they provide a healthy environment for work and play
.
Chicagoland Carpet Cleaners aim is to assist to make your carpet good as new.
We offer a verity of carpet treatment:
Stain Removal

Deodorizing
Mildew Treatment
Carpet Restoration
Pet Stains and Pet Odors
Gum, Tar, Oil, and Grease
Coffee, Rust, Ink, Tanning Oil, and Other Stains
And more!
Carpet
Cleaning
Get 1 Room clean for
Free
Combo
Cleaning
Clean Carpet & Rugs or Upholstery and get

$25 OFF
Green
Cleaning
Get Non-Toxic , Eco-friendly

FREE
Pet Odor & Stains
Save on Powerfull Pet Odor & Stain cleaning

$20 OFF
Rug
Cleaning
Save on detail Rug Cleaning in our facility
FREE PICK UP
Scotchgard™
Prevent Future Stains!

%50 OFF