Scotchgard™ Carpet Protector
Professionally-Applied Scotchgard protector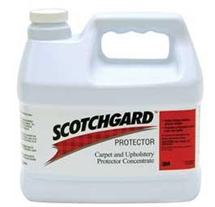 The best way to protect your carpets, rugs, and upholstery and keep them fresh and clean for many years to come is to apply our Scotchguard treatment for maximum protection.
We Guarantee Your Home Will Look Cleaner and Fresher for Years to Come
Scotchgard Protection:
Helps protect against both oil- and water-based stains
Helps carpet fibers resist soiling
Helps carpet and upholstery fabric resist stains
Helps carpet and upholstery stay cleaner longer
Creates an invisible barrier between fabric and stains
Prevents dirt from sticking to fibers in fabric
Save Time With More Effective Vacuuming!
Dirt is much more easily released by vacuuming after your carpet and upholstery have been treated with Scotchguard Protection.
Clean up Stains in a Flash!
Stains are removed far more easily because Scotchgard repels liquids. Spills can be blotted up in the blink of an eye!

The best time to apply Scotchguard Protection is immediately after a professional cleaning by Chicagoland Carpet Cleaners. Such an application will keep your carpet, rug, or upholstery clean and safe for a much longer period.
Cleaner for Longer
Once our technician applies Scotchguard Protection, your carpet and upholstery will become easier to vacuum, as well as stain-resistant, giving your home a cleaner and fresher look for a longer time.
Carpet
Protector
Get 1 Rm schotchgard

FREE
Combo
Cleaning
Clean Carpet & Rugs or Upholstery and get

$25 OFF
Green
Cleaning
Get Non-Toxic , Eco-friendly

FREE
Pet Odor & Stains
Save on Powerfull Pet Odor & Stain cleaning

$20 OFF
Rug
Cleaning
Save on detail Rug Cleaning in our facility
FREE PICK UP
Upholstery
Cleaning
Clean 1 Upholstery, Get 2nd
%50 OFF