Rug Cleaning in our Facility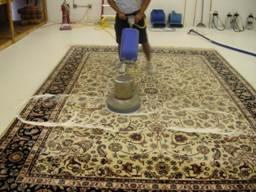 Chicagoland Carpet Cleaners treat the rug with extra attention using special hand-brushes to clean each color separately, therefore preventing color bleeding.
If the rug has not achieved the best possible condition, Chicagoland Carpet Cleaners will repeat the full cleaning process with no additional charge. We recommend giving the hand cleaning process time frame of 1-3 weeks. Call us to find out about rush delivery.
Your area rugs may be art treasures, have an emotional value or simply an inseparable part of your indoor appearance. Every rug requires special attention before cleaning to maintain its value.
Rug
Cleaning
Get 2nd rug Clean for

$20 OFF
Combo
Cleaning
Clean Carpet & Rugs or Upholstery and get

$25 OFF
Green
Cleaning
Get Non-Toxic , Eco-friendly

FREE
Pet Odor & Stains
Save on Powerfull Pet Odor & Stain cleaning

$20 OFF
Rug
Cleaning
Save on detail Rug Cleaning in our facility
FREE PICK UP
Upholstery
Cleaning
Clean 1 Upholstery, Get 2nd
%50 OFF