Upholstery Cleaning
Brand New Shine
for Timeless Furniture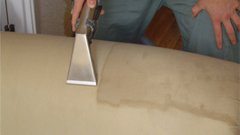 Your furniture can last - and for far longer than you think - when properly cared for.
Clean & Fresh... Today!
Preserve your furniture with Chicagoland Carpet Cleaners' upholstery cleaning service and Scotchguard protection.

You'll rest easy knowing that when we're through your furniture will look fresh and clean for a long time.

Everyday wear and tear can take its toll on your pieces, making them look prematurely shabby and dirty. We know what it takes to keep your furniture looking good, whether it's a sofa, or an armchair.
Clean Furniture for a New Living Room
Here at Chicagoland Carpet Cleaners, we use a successful, proven deep-cleaning method, to clean and freshen your upholstery, transforming not only your furniture but the appearance of your entire home!

Let Chicagoland Carpet Cleaners give you the clean home you've always wanted.
There are no worries... because all of our work is 100% guaranteed! And be sure to ask about our special prices when you choose more than two of our exclusive services.
The Right Treatment for Each Fabric
For households with pets and small children, we recommend a combination of our unique deep cleaning method and Scotchgard Carpet Protection treatments, to prevent further stains.

Our technicians will evaluate your upholstery and its particular fabric before recommending the treatment that best suits its needs.
The Best Methods - The Best Results
We specialize in all types of upholstery fabric and are careful to use only the most appropriate cleaning method for your piece of furniture, ensuring safe and complete removal of even the most stubborn stains.











Upholstery
Cleaning
Get Deodorizer

FREE
Combo
Cleaning
Clean Carpet & Rugs or Upholstery and get

$25 OFF
Green
Cleaning
Get Non-Toxic , Eco-friendly

FREE
Pet Odor & Stains
Save on Powerfull Pet Odor & Stain cleaning

$20 OFF
Rug
Cleaning
Save on detail Rug Cleaning in our facility
FREE PICK UP
Scotchgard™
Prevent Future Stains!

%50 OFF